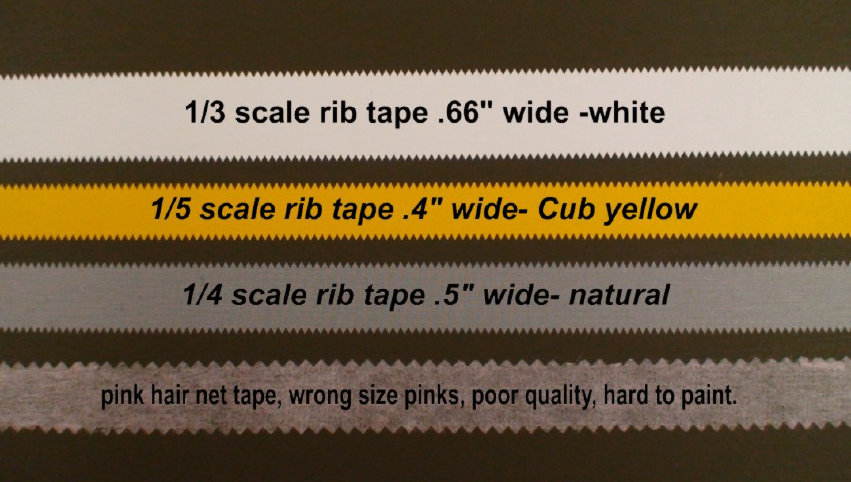 Modelers now have a more scale option when it comes to pinked edge finishing tapes. For years modelers have been searching for a more scale option when it came to replicating pinked edge finishing tapes, the choices were few and not very scale. Pinked edge tapes cut from ceconite are actually cut for full size aircraft and the "pinks" are to large for scale models. Hair net and bandage tapes also have too large of "pinks" for scale models, are difficult to paint and really stand out once applied and painted (this is a bad thing). On full size aircraft you do not even notice the pinked edge tapes until you are about 3′ away from the plane, so why would you want thick, heavy hair net/ bandage tapes on your model that can be seen from across the field?
Pink-It tapes are cut from Solartex which is a fabric covering that has a heat activated adhesive applied on the back. To apply Pink-It tapes you simply iron them on, they have a very nice fabric texture. No need for smelly, toxic chemicals.
We know that you have choices to make as a modeler and hope that you will give Pink-It a try! Our Pink-It tapes have been used on 1st place Top Gun and Weak Signals Toledo show models plus many, many more scale event around the world.
We can cut virtually any size finishing tape you may need, from any color Solartex has to offer. 40% scale is pretty popular and we have even done some 50% scale tapes. Please contact us with your special requirements.
Want a free sample piece? Just send us an email at [email protected]
You can get it in: Cub Yellow, White, or Natural
Showing 1–12 of 23 results